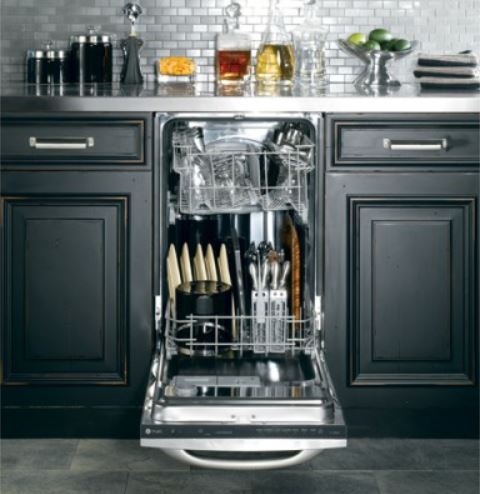 The humble dishwasher…it's a modern appliance we take for granted. And when it breaks we are sent straight back into flashbacks of our childhood 'drying up rosters' and kitchens that took an hour to clean if dad had been cooking. So, before you break into a cold sweat and call the repairman, what should you check if your dishwasher has stopped draining?  Thanks to ipswichplumbing.com.au for the tips!
   

THE DOOR ISN'T CLOSED PROPERLY
Since the simplest explanation is often correct, checking that your dishwasher door is latched correctly is often the best place to start. It's possible your son didn't close the door properly when he snuck that cup in midway through the cycle. Or perhaps the door isn't latching properly altogether? Either way, it's the best place to start.
   

THE DISHES WERE TOO DIRTY
If you have a newer dishwasher that is relatively good at cleaning food from plates, you might be tempted to put dishes in there a little dirtier than normal. And whilst your dishwasher might be doing a great job of getting those dishes clean, those little bits of food need to go somewhere. If you're frequently finding yourself with a dishwasher that won't empty, it might be because your dishes haven't been rinsed properly when they went in…leaving food to back up in the drain or overfill the catcher.
   

THE FOOD CATCHER IS FULL
Ahh…the food catcher. That wonderfully gross basket sitting in the bottom of your dishwasher that you beg your husband to empty every couple of months. How long has it been since you've fished that thing out and given it a good clean? If your dishwasher isn't draining, it unfortunately might be time to roll up your sleeve and pull it out.
   

THE DRAIN HOSE IS BLOCKED
Okay, so you made it through the first two steps and your dishwasher is still not draining on a normal cycle? It might be time to check the hose connection. This is where it can get a little smelly….
–      Pull your dishwasher out, making sure the power is switched off at the wall.
–      Check to see if there are any kinks in the hose.
–      Check to see if the hose is blocked. You'll need to disconnect it from the dishwasher itself and should have some old towels and an old toothbrush handy to help remove any blockages.
   

YOU NEED A REPAIRMAN
If you've gone through all the troubleshooting steps, reset your cycle and you still can't get your dishwasher to drain, it might be time to call in the cavalry. Some possible other issues that a professional might be able to assist with include:
–      Replacing the drain hose
–      Checking electricals
–      Checking cracks on the sealing of the door
–      Looking for leaks
–      Inspecting the pre-heating mechanism.